Considering the swank new business-class service being rolled out on long-haul routes, airline travel gurus have been suggesting recently that splurging on a first-class seat may not always be necessary. The level of luxe depends on the airline and on the particular model of plane. Here, we look at business class on three Middle Eastern airlines – Emirates, Etihad Airways and Qatar Airways – highlighting some of the perks they have put in place to lure business-class travelers.
All three of these airlines have tried to set up their business-class cabins and service so that you can work and relax. What they can't guarantee is a completely quiet space for either. One reviewer found that out flying business class from London to Dubai on an Emirates Airbus A380. An otherwise good experience was "tarnished," he says, by "the piercing screams of children. Not the short-lived cries that occur during takeoff and landing or a child in distress struggling to get to sleep; this was unruly children not being managed by their parents." When he asked an Emirates spokesperson whether the airline had considered an "adults only" feature, the answer was a straightforward "No, we have not."
Emirates Business Class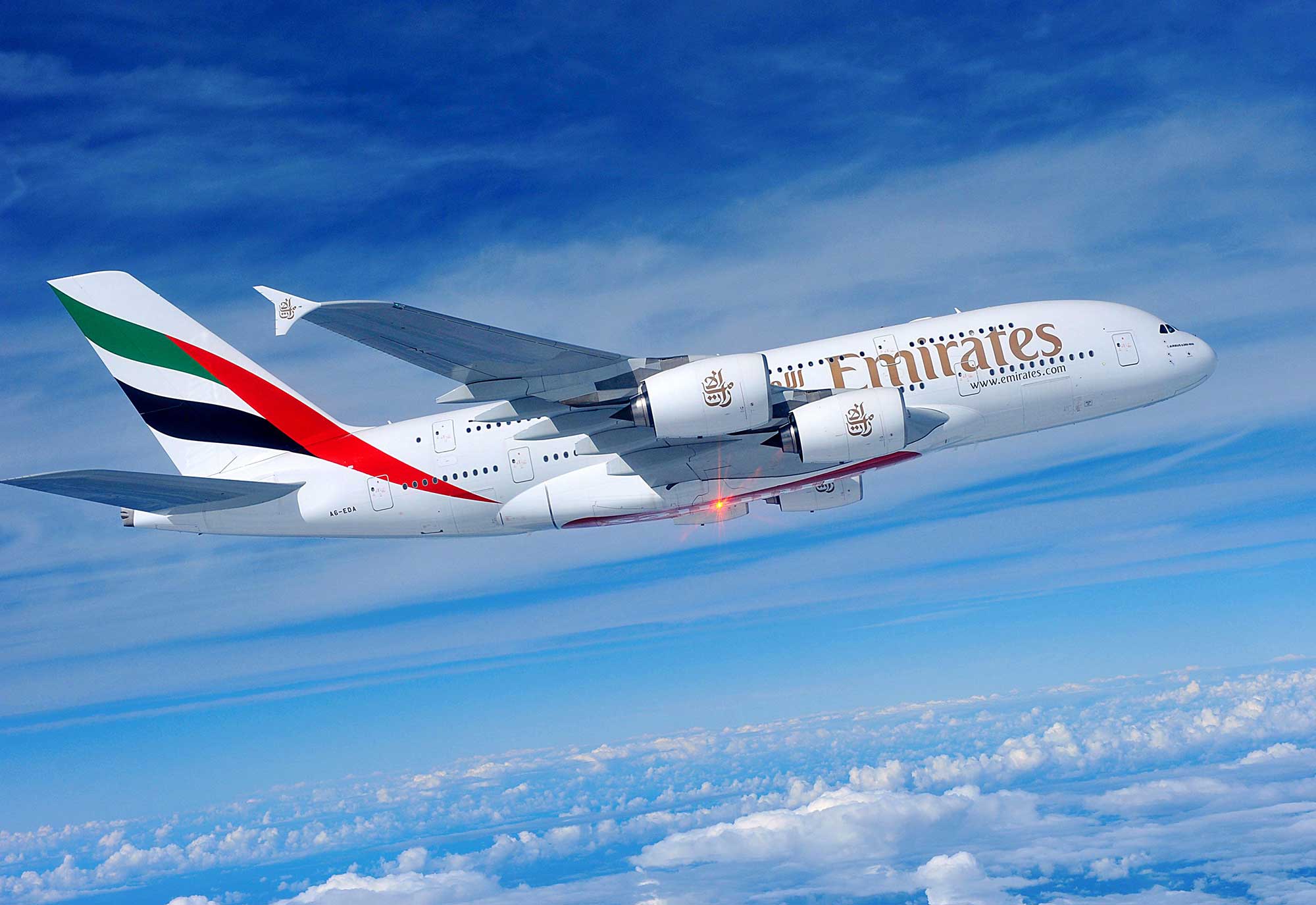 Emirates offers business class on two different types of aircraft. The plane model can make a difference, according to blogger and pilot Patrick Smith (askthepilot.com). "On the outside, the mega jumbo A380 is the ugliest jet liner ever conceived, but on the inside it's spacious, luxurious and whisper quiet. The upper deck A380 business class is outstanding." Emirates' Boeing 777 business class has a more standard seat, he says, "and at seven across, it is very, very tight."
On the A380 there are 76 lie-flat seats in a 1-2-1 configuration that convert to fully flat beds about 77 to 79 inches long. Seats have a console and minibar to one side, and, says Smith, even though "it's not a totally enclosed suite like you'd find in first class, the chair is set deep within the cubicle." The two center seats have an electronically operated privacy barrier between them; Smith suggests that you choose a seat with an outside console "which acts as a buffer between you and the aisle."
Emirates offers a choice of six-course meals. A reviewer for the Telegraph enjoyed the food and wine, although he "had expected the airline to celebrate Arabic cuisine to a greater extent." Smith doesn't like that Emirates (and Qatar) offer separate service for each passenger – in other words, no aisle cart. "The whole thing feels random and confused, with flight attendants running to and from the galley with plates and trays." The fact that the trays are set with Royal Doulton china and linen tablecloths and napkins may be a consolation for some.
One extremely popular feature seems to be the onboard lounge, situated in the rear of the business-class cabin and open to both first-class and business-class passengers. It's a place to socialize, drink, eat canapés and relax in general. Two sofas are equipped with seatbelts "so you're welcome to hang out even when there's turbulence," says Smith. The Telegraph reviewer noted that the bar "provided a good platform for interaction between passengers and the international crew." Lachlyn Soper (babytravelstheworld.com) says that the lounge is perfect for the "I am flying over Slovenia and still have nine hours to go" drink.
Emirates' ICE (information, communications, entertainment) system has won the Skytrax "Best Entertainment System in the World" award 11 times. With thousands of entertainment options, including movies, TV programs, music, podcasts and video games, there's more than enough to choose from, and the "video screen is huge and crystal clear with a comfortable set of noise-reduction headsets," says Smith.
Etihad Business Class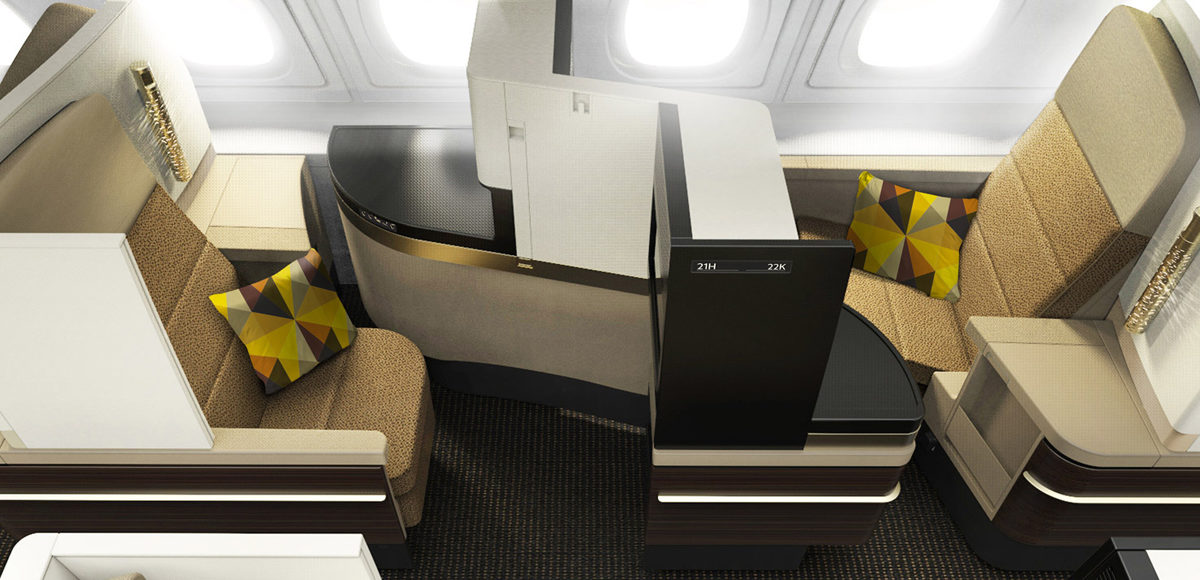 The great feeling one gets boarding the upper deck of the A380 "never gets old," according to a writer for the industry news blog Airline Reporter describing his business-class flight from Sydney to Abu Dhabi. He likes Etihad's cabin decor for its "class and sophistication." And, although he doesn't care for the rear-facing seats as well as the front-facing ones because of the slightly reduced pitch, he does approve of the bed being wider on the A380 than on the A330/A340 or the 777.
Because of the comfort factor, the decor, the food (which he calls "stunning") and the in-flight entertainment system, he declared his business-class experience on Etihad superior to even some of today's first-class products. "The airshow feature is one of the best I have seen," he writes. "There is a head-up display mode, as well as various other bits and pieces of information such as the pitch and roll rate of the aircraft and the vertical speed indicator. It is packed full of many unique features that any AvGeek is sure to appreciate."
A Telegraph review called the Etihad A380 business studios very comfortable – "undoubtedly some of the most sophisticated business-class seats on offer." The reviewer liked the Poltrona Frau leather of the seats and the brown, taupe and "understated golds" of the studios. "Storage is ample and a large retractable dining table functions adequately as a desk." Plus, because business class is so vast, "the cabin remains reasonably peaceful even when near capacity."
Etihad's "dine anytime" feature makes this same reviewer think that "eating at predetermined times when flying business with other airlines may now feel like more of an imposition." The à la carte menu features both Middle Eastern and international dishes; he found his meal of Arabic mezze, chicken supreme and chocolate and vanilla mousse cake was both "tasty and well-presented."
Etihad has "a relatively sedate lounge area" where drinks, tea and snacks are available. "It lacks the hubbub found in other airlines' communal spaces…some passengers will no doubt welcome the relative tranquility, and the space itself is inviting."
Two interesting extras that Etihad offers to business-class passengers: a complimentary one-night stay in a five star hotel in Abu Dhabi or Dubai and a Flying Nanny service that "provides a helping hand with the little ones on long-haul flights."
Qatar Business Class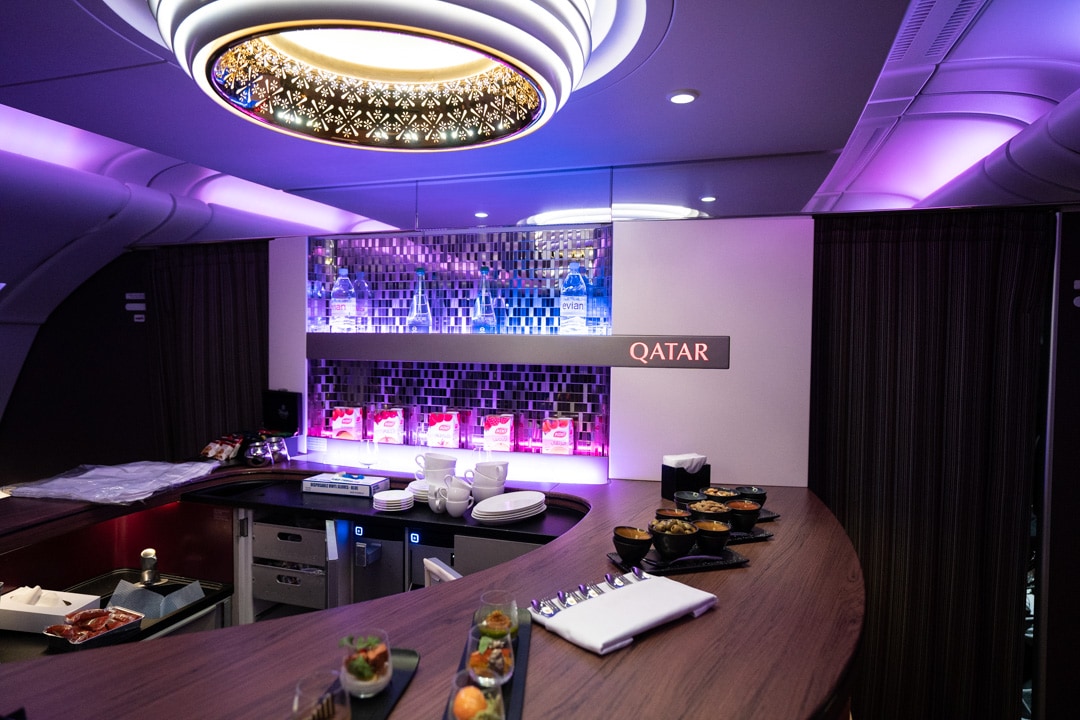 Tariq El-Asad, director of Tamea International and a frequent traveler to and from the Middle East, likes the design of Qatar's interiors better than Emirates'. "It's more ergonomic, so it feels more comfortable. I especially like the mod-style business-class seats that were on one London-Doha flight – it felt very futuristic, with both form and function in harmony."
Smith took a long-haul flight from Doha on one of Qatar's 777s and declared his seat, with its 2-2-2 configuration and wide console for each passenger, to be "roomy" but the "retractable privacy barrier was small and not particularly useful." He prefers the herringbone-style configuration where every seat is an aisle seat, which is how the A380 is laid out. He found that when the seat was fully flat it made for a comfortable bed, especially with the mattress pad that was provided to "helped fill in the cushion gaps."
Some of the luxury extras that Qatar likes to promote are the Ladurée desserts, amenity kits from Armani and Frette linens. "Costing upwards of $1,000 for a sheet set, this is bedding found at some of the most luxurious hotels around the world. No more itchy pillows and flimsy blankets on this flight," according to Vogue.
When Ben Schlappig (onemileatatime.com) flew from Bali to Doha in a 777, he was impressed that he was given pajamas in business class; unfortunately there were low-quality and didn't fit. (He ordered a size medium, which "fit like a tank top.")
Menus, which are created by international celebrity chefs Nobu Matsuhisa and Vineet Bhatia, take into account "not only flavours and spices, but how the taste buds are altered at 30,000 feet." The same team oversees the menus in both business and first class.
Food is served à la carte and on demand – no set meal or snack times. Some passengers love the idea, but Smith is lukewarm: "It's a little too open-ended, and at no time was this process explained. After takeoff I sat there for two hours, ravenously hungry and waiting for the service to begin before finally figuring out there was no service." He complains that not once "during the entire flight did a flight attendant ask if I needed anything."
Schlappig's meal, which included beef rendang (an Indonesian stew) with a "fantastic sauce and the perfect amount of spice" was "top-notch," he thought – one of the best he had ever had in business class on any airline.
But best of all, according to Schlappig? "Qatar Airways takes the cake for their onboard bar. They serve Krug Champagne, which is ordinarily only available to first-class passengers. But since the bar is shared by first- and business-class passengers, they offer everyone the 'premium' alcohol selection. Onboard bars don't get better than this, from the decor to the ambiance to the drink selection."
The entertainment system, according to a writer for Abu Dhabi-based The National, an English-language daily newspaper, earned "top marks" – movies from the latest blockbusters to classics such as Gentlemen Prefer Blondes and a good range of documentaries. "I was thrilled to find Searching for Sugarman," she said. Despite the many choices, Smith thought the interface was terrible. "You scroll through the options using a cursor, and the cursor …moves…very….very… slowly."
The Bottom Line
As more and more airlines pump up their business-class products, they may be giving first class a run for its money. As always, when considering which airline to choose, be sure to check seatguru.com to find out exactly what to expect from the hard product – aisle configuration, seat width and pitch, etc. – and passenger reviews to give you insight on the soft product – the service, the menu, the ambiance. You may find that you do not need to spend first-class prices to get some of first-class services.
Wonder how you'll get to the terminal? Etihad and Emirates offer chauffeur service to and from several airports (on Qatar it's reserved for first-class passengers only).