Some cities are historic and elegant; some are shiny and modern; and some are so colorful you just might not believe your eyes. From a cheerful fishing village in Italy to a walled colonial city in Colombia, these colorful cities and towns will add a jolt of vibrancy to your next vacation.
Burano, Italy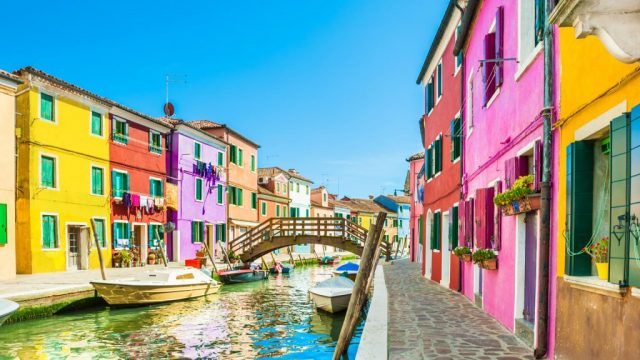 Just a 45-minute vaporetto ride from Venice, Burano is also built around a network of canals, but it's got a completely different vibe from its famous neighbor. Smaller, quieter, and infinitely more colorful, the fishing village of Burano is known for its traditional lace-making industry and for its buildings painted in every shade of the rainbow.
Where to stay: There are few places to stay in Burano itself, so base yourself in Venice at the Hotel Palazzo Vitturi, where its 16 rooms feature original frescoes.
Kampung Pelangi, Indonesia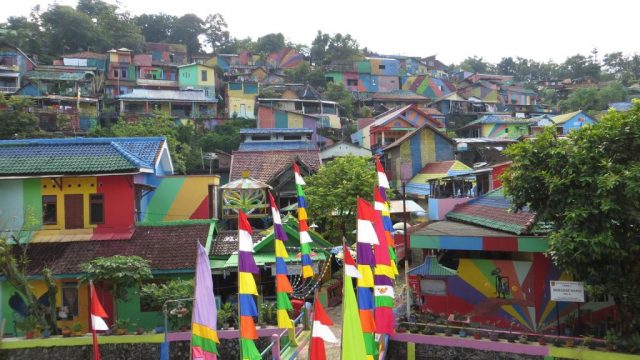 Known as the Rainbow Village, Kampung Pelangi is a recent entrant onto the list of the world's most colorful cities. In April 2017, the town council decided to spend 300 million Indonesian rupiah (a little more than $20,000 USD) to paint all 232 houses in the village with at least three different colors each, as part of an attempt to draw more tourists. Other colorful towns in Indonesia that have undertaken similar revamps include Kampung Warna-Warni, Kampung Tridi, and Kampung Kali Code.
Where to stay: Stay in nearby Semarang at the @HOM Hotel Simpang Lima, a comfortable business hotel with an on-site restaurant.
Trinidad, Cuba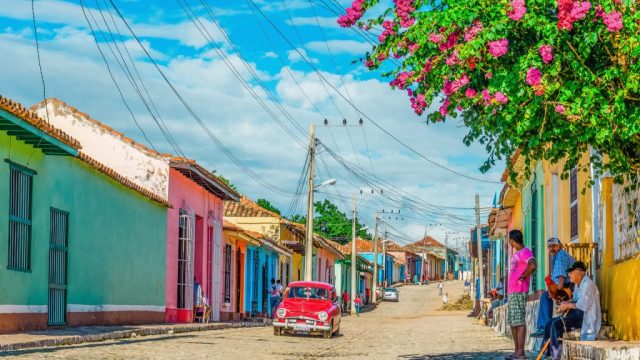 With its cobblestone streets, vintage American cars, and historic buildings painted every shade of blue, yellow, pink, and green, this colorful city offers endless fodder for your Instagram feed. Relax on the Plaza Mayor with a cup of coffee or an ice cream cone and watch the world go by.
Where to stay: The centrally located Iberostar Grand Trinidad has elegant rooms in a colonial-style building. Families with young children will need to look elsewhere, though; guests under 15 years of age are not permitted.
Cape Town, South Africa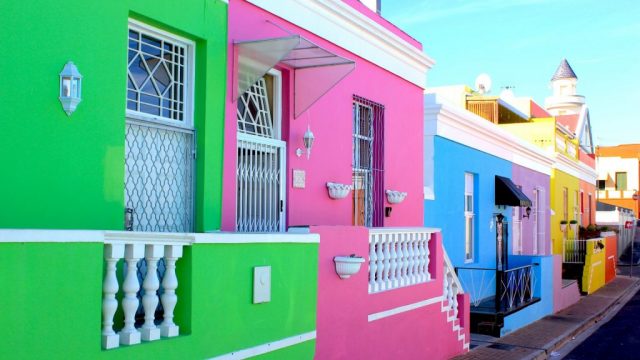 Cape Town's rainbow-colored Bo-Kaap neighborhood wasn't always such a kaleidoscope of color. The buildings here were originally used as rental homes for slaves, who weren't allowed to change the white exteriors of the houses. Later, when slaves were given the freedom to buy their homes, they celebrated their liberty by painting their houses the vibrant colors visitors can see today.
Where to stay: Housed in a Victorian-era building, Derwent House is decorated with the work of South African artists and designers. Guests can relax in the pool or hot tub after a long day of sightseeing.
Ilulissat, Greenland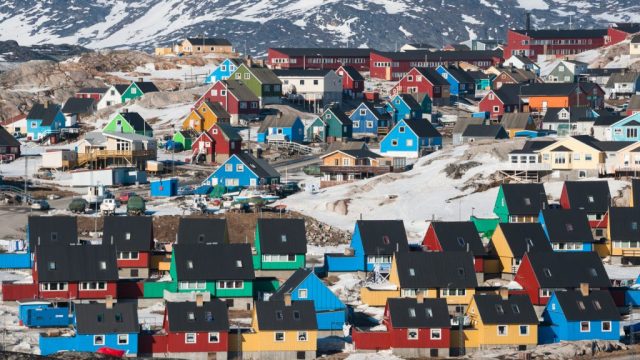 Set against the subdued color palette of the Arctic—white ice, gray rocks, brown tundra grasses—Ilulissat's vividly painted houses bring a spot of cheer to this remote outpost. According to Greenlandic tradition, the color of a building indicates its purpose: yellow for hospitals, blue for fish factories, red for commercial properties, and so on. These days, however, you'll see a wider, more whimsical range of colors in Greenlandic towns like Ilulissat.
Where to stay: Many of the rooms at Hotel Arctic Ilulissat look out over spectacular Disko Bay, where massive icebergs drift by all year long.
Singapore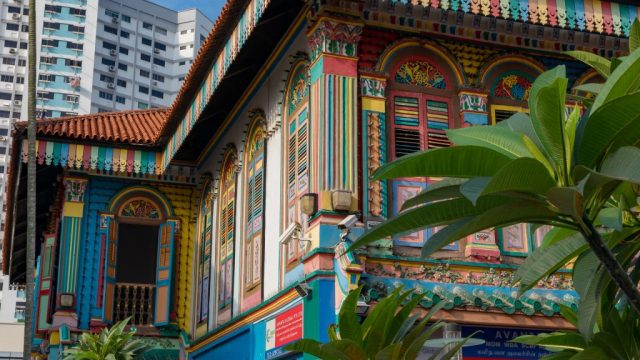 Singapore makes this list for its bustling Little India district, where temples, markets, shopfronts, and street art offer a melange of colors. Don't miss the House of Tan Teng Niah, a former Chinese villa that's been painted in dozens of eye-popping hues.
Where to stay: The Daulat is an affordable boutique hotel in Little India, with compact but stylish rooms and a small rooftop pool.
Guanajuato, Mexico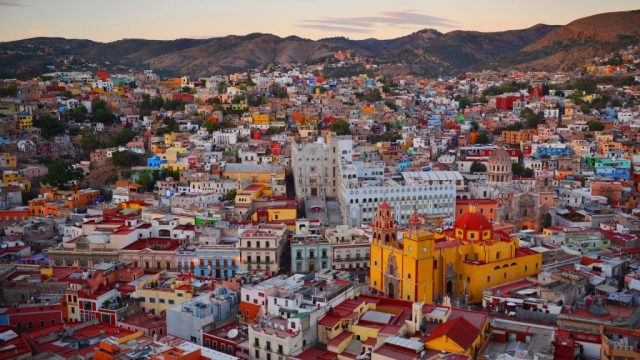 Mexico has no shortage of colorful cities, but Guanajuato is one of the most charming. The hills around the city center are blanketed with houses in every shade, while the historic center features cobblestone streets and a striking basilica painted in bright yellow and red.
Where to stay: With a location right on Guanajuato's main square, Hotel Boutique 1850 makes it easy to walk to all of the city's major sights.
Menton, France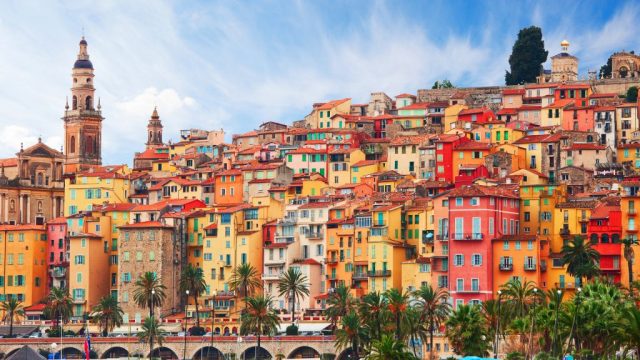 Menton may be less flashy than French Riviera neighbors like St. Tropez and Monaco, but its laid-back vibe and colorful waterfront—with pastel-painted buildings overlooking a sun-splashed sandy beach—make it undeniably appealing to travelers.
Where to stay: The comfortable rooms at Hotel Princess & Richmondoverlook either the mountains or the sea.
Cartagena, Colombia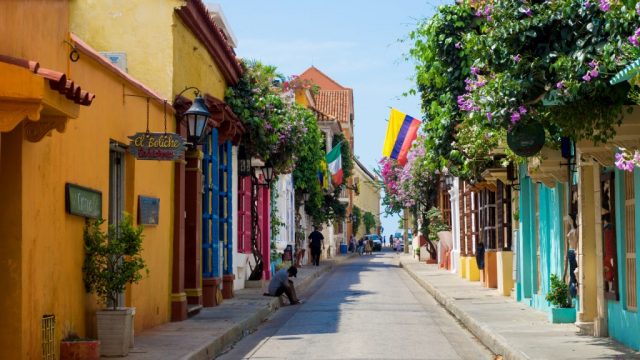 Surrounded by sturdy stone walls, the historical center of Cartagena is a feast for the eyes. Pink and purple blooms spill out of flowerboxes on wooden balconies; colorful churches loom over sprawling plazas; and the turquoise waters of the Caribbean Sea glimmer in the distance.
Where to stay: San Pedro Hotel Spa, located in an 18th-century building in the San Diego district of Cartagena's old town, welcomes guests with homemade lemonade and a free hand and foot massage.
Willemstad, Curacao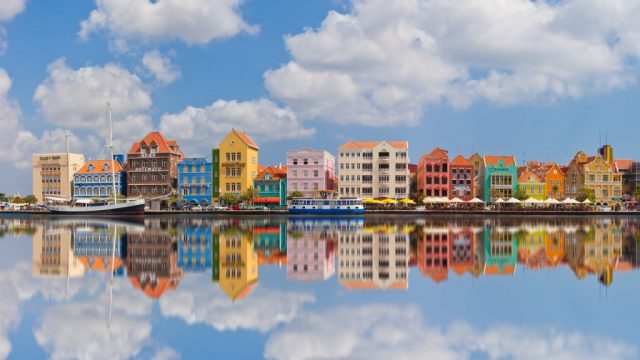 The brightly painted Dutch colonial-style buildings of this Caribbean capital have earned a spot on the UNESCO World Heritage list. Visitors should spend some time exploring Punda, the city's historic heart, with its plentiful shops and galleries.
Where to stay: As the name suggests, Scuba Lodge is a great place to learn to dive—you can take PADI courses on site—but it's also a great pick for travelers looking for a boutique hotel within walking distance of both downtown Willemstad and the beach.
St. John's, Canada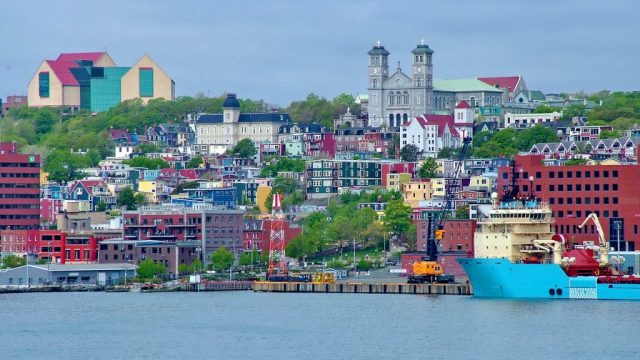 Maroon and sunshine yellow, lavender and lime green, navy blue and burnt orange—you'll find townhouses in just about every hue as you walk around in downtown St. John's, Newfoundland. Some locals believe the buildings were painted this way so fishermen could find their way back home on a foggy day.
Where to stay: The waterfront Murray Premises Hotel offers easy access on foot to downtown shops, pubs, and other attractions.